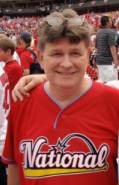 Hi, You have reached 1,000,000 Baseball Cards' website. We are one of the largest and oldest card shops in St Louis. We have been in business since 1989 and have over 4,000 mail order customers so if you are trying to finish sets or collect individual players you have come to the right site. On this site we probably have close to 1,000,000 cards for sale from all four sports. We don't have a search engine on this site but we tried to make finding the cards you need as easy as posible. Here's how to do it. It all starts by clicking on the "Cards For Sale" box, this will bring up a screen that lets you pick which sport you would like to look at.

Click on About Us to read more about our history and our line of sports cards, autographed memorabilia, vintage & replica pennants, bobbleheads and other sports memorabilia

To view our online inventories, check out our Cards for Sale section. We have an exhaustive listing of all of our singles from Baseball, Basketball, Football, and Hockey. Browse through the listings to find singles on your favorite player, key rookies on today's hottest Superstars and Prospects, and look for those last few cards to finish your sets.

For online ordering or to print out a mail order form, check out our Order Form section
Thanks and we hope we can help you soon.
Hours
Monday
11AM-6PM
Tuesday
11AM-6PM
Wednesday
11AM-6PM
Thursday
11AM-6PM
Friday
11AM-6PM
Saturday
10AM-5PM
Sunday
Closed
Online Store
Beckett Marketplace Store